Globeducate events bring students together to learn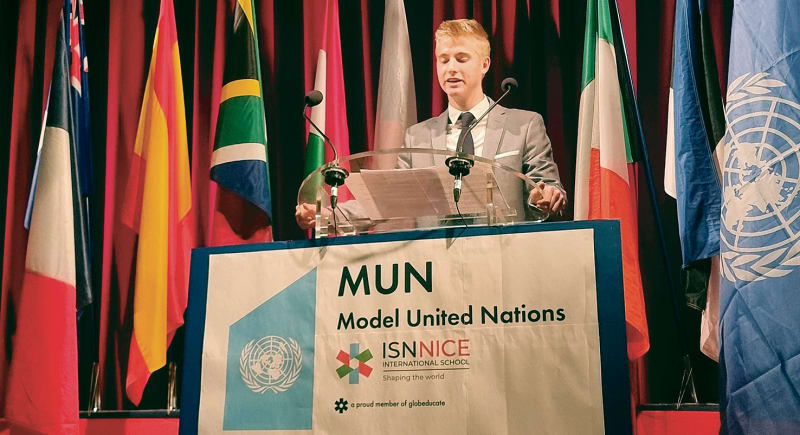 Globeducate schools around the world can´t wait to begin the year´s global annual events programme - a series of six in-person Globeducate events and one virtual Globeducate event that in the last academic year saw 7,000 students participating.
Since the global events programme launched in 2019, building on a successful series of events established when the group was formerly known as NACE Schools, there has been an increase in participation of nearly 500 students.
The events kick off in October with the Student Leadership Summit hosted by Stonar School, UK, and are followed by the Academic Olympics in November, hosted by ICS Milan and Bilingual European School, Italy. In the new year, students will come together for our hugely popular International Music Festival, hosted this year by Agora Lledó International School, Spain, and this year´s Model United Nations competition returns to ISN Nice, France, who have hosted it online during the pandemic. The summer term sees sporting competitions come to the forefront with our new event, the Iberia Cup (Basketball and Football) hosted in Spain by Agora Sant Cugat International School and Agora Barcelona School. Nobel Algarve British International School in Portugal will host the Global Olympics in June, after two successful online events during the pandemic.
Our Globeducate Arts Competition, which includes categories such as painting, poetry, creative writing, performing arts and photography, launches in June of each year and students have until the start of November to submit their entries to their schools. A Globeducate judging panel then evaluates all entries that our schools put forward. Each year we see world-class creative submissions showcased across ten countries.

These global events are open to all schools across the group and give students and teachers the opportunity to travel to new schools, cities and countries, to interact with students from other Globeducate schools, to collaborate and to learn from their global peers. The events are conducted in English but students have many opportunities to use a foreign language they may be learning because part of the event experience may involve being hosted by a family from another school.
Education Director at Globeducate, Oanh Crouch, said:
"Our Globeducate events are designed to deliver all four of our key principles – delivering educational excellence, developing skills and competencies, building character and nurturing global perspectives. Our large-scale in-person events that took place before the pandemic were of incredible impact to our students and teachers. I am extremely proud of our schools as they pivoted and developed ingenious ways to maintain the spirit and impact of these events during the lockdown. By embracing the opportunity to using technology in very creative ways and through the use of a variety of online forums, workspaces and platforms, our schools were able to deliver immersive experiences for all involved while keeping our students feeling connected to the wider world during a period of huge restriction on social interaction. The fact that we will come together in person this year, will truly elevate the significance of these events in students´ minds and hearts and; through the content and collaboration with others, will inspire them to make a valuable contribution to the world as global citizens."
The six Globeducate Events are complemented further by group-wide Globeducate events linked to the Globeducate Agenda, such as Eco Week, WWF Wear it Wild Day, the WWF Quiz, as well as Learning Community events such as Globeducate Debates, Poetry Slam, Globeducate Reads, Outdoor Learning Days and STEAM Day.
To find out more about the key principles of a Globeducate journey, which these events bring to life every year, read more here.